So I finally went to get my hair done the other day.
It's been a while since I've been to a salon.
I asked for more layers && bangs. =D
I love the massages that I get when I'm there my hair felt so refreshed.
This is my little makeup stationary I share with my twin.
She has that pink makeup kit from walmart I bought a small drawer for mine.
I actually have another silver kit filled with other makeup things because of course it all wouldn't fit && it's crazy because I DO NOT wear a lot of makeup
my makeup constantly looks the same for a natural look.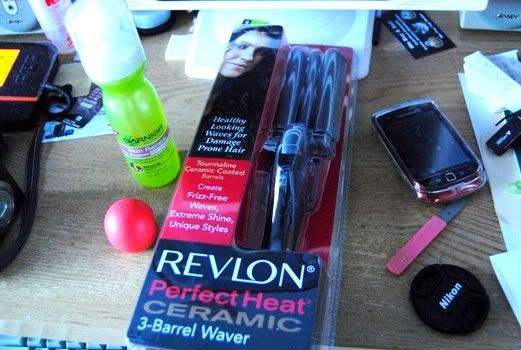 Speaking of Walmart I went the other day &&
bought me the Eos's lipbalm
(the pink circular thing in the photo)
it's organic && I love it mine is in Summer fruit
it has a lovely fruity smell. I'm completely hooked on their products. Oh it was $2.99 on sale at Walgreen's in case you wanted to know.
Moving on I bought this waver for $15 at Walmart I decided to try one out I've never own anyone of them.
I tried it it poofed my hair but in a nice way I didn't add anything to my hair I guess
that's why.
*shrugs shoulders*
I also need to take time into doing my hair I get so lazy I usually like to just curl it && go it's so easy for me.
&& last but not least
this gel cleanser from Garnier I love.
Thank god I waited on the product I saved $2 at Walmart I love a good bargain.
It comes with a scrubber for the face it's smooth && it's easier to use.
It takes off my makeup && cleans && renews my face. I love it.
I hope to have my sister take photos of me we both feel like we have no time to do anything anymore but we're planning on traveling the country before we head out into the world
ahh can't wait first stop is somewhere in California because I've never went
hope everything goes well
til next time
xo